Length of Time to Build an Extension
Posted by:
Admin
Tags:
Posted date:
13-10-2021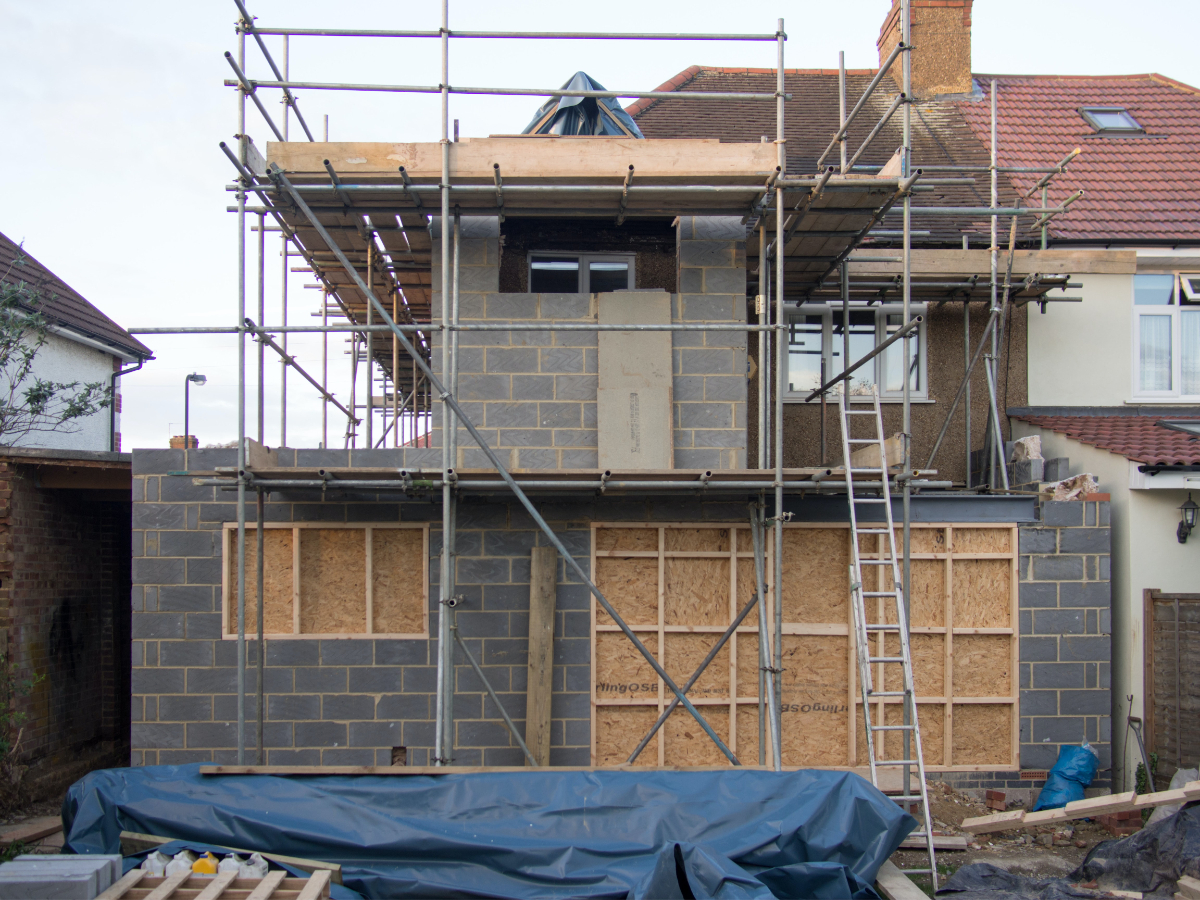 How long does it take to build an extension?
As a general example, a project for a standard single-storey extension to the rear of a property will take between three to four months to complete. Naturally, for more significant two-storey extensions, the timescale will be closer to six months.
These scales do not account for the project's initial planning and design stages, merely the extension's construction time. House extensions should take around one year to complete on average, including all the design, planning permission, party wall awards, etc.
How long should each stage of the extension take?
Given that every extension is different, taking place in different environments for different purposes, it can be challenging to determine the length of time each extension will take.
However, no matter the project, there will be bumps along the road. From inclement weather to inclement neighbours, numerous things could put a halt to your project.

A timescale of between 7 and 15 months is the broadest scope we can provide for how long an extension project should take. This is because there are many moving parts, with various professionals and contractors contributing to the extension's success.
It takes time to gather the resources necessary to complete an extension, which can be a laborious process. But here is a rough guide of what to expect.
Prep: 2 - 4 weeks
Before the construction of your extension can begin, you have to do your prep. This involves detailing what you propose to build, why you would like to build it, how much it will cost, and any legal issues you need to deal with, such as planning permission.
Once you know what you are doing, you can contact an architect to start drawing up the technical plans of the project. However, this is a lengthy process, and you could spend a few weeks to a month doing it.
Design: 2 - 5 weeks
The next step is to have your chosen architect draw up the detailed plans of the project you want.
If you already have schematic plans of your existing property, this will help speed up the process. If you do not have these to hand, you will need to survey your home to gather the relevant information.
Planning: 8 - 10 weeks
The planning stage is the stage that you will need the most patience for. The 8 to 10 week period is variable, and it can sometimes take far longer to have your plans approved by the appropriate authorities.
Sometimes they may propose alterations to your existing plans, which your architect can help you arrange, as you will not be able to go ahead with construction until these are met.
Technical design: 1 - 2 months
Next, you will need to finalise all of the intricate details of the project so you can get started on construction. Your plan must comply with building regulations, which your architect can manage, and you will need to have a structural engineer go over the extension to see if the plans are viable and safe.
Depending on the structural services company you choose, this can be another long wait, but doing your research beforehand and selecting the right people will help you speed through.
Party Wall: 1 week - 3 months
The difficulty in obtaining a party wall agreement lies with one sole individual - your neighbour.
If you have a good relationship with them, then agreeing to the terms of a Party Wall Award will be a breeze. Otherwise, get ready for a slogging match.
These agreements do not apply to every extension, but if your proposed plans to your neighbour's boundary, or anywhere within 3 metres of it, you are going to need one.
Tender process: 2 - 4 weeks
The tendering stage is when you hire the contractors and builders you need to complete the project. Compiling your tendering documents beforehand will speed this up.
It is also advisable that you submit these to more than one contractor, given that prices for services can vary greatly. You might also ask for proof of previous work, or visit the sites yourself, to see if they are worth the money.
This could also allow you to discuss the contractor with someone who has employed them before.
Building: 2 - 4 months
Finally, you can start building. Naturally, the time it takes to construct your extension will vary depending on its scale. Factors such as glazing, plumbing etc., will all affect the time it takes to complete the job. The skills of those you hire to undertake the work will also affect the timescale.
Phases of the extension build
Extensions are becoming increasingly popular these days for those looking for more room in their homes. With expensive mortgage rates, stamp duties, and various other expenses, it is no surprise that moving house seems to be the least attractive option.
The UK government have even relaxed planning regulations to make it easier for people to modify their homes, given that it is easier than moving.
But what are the phases of an extension build? Here we have listed the different elements that go into a typical, single-storey rear extension. This will give you a rough idea of what to expect when you embark on a standard extension project.
Week 1 – Preparation
An excellent place to start is to make your neighbours aware that you are having work done. Giving them a nasty surprise when a noisy construction project starts up next door will only serve to make the process more difficult and stressful. Therefore, having everyone on the same page is always the best policy.
You will also want to make space for all the materials to be stored and ensure easy access to the project site when the time comes to start working. Arranging for a skip is also a good place to start and deliver the first lot of materials to your property.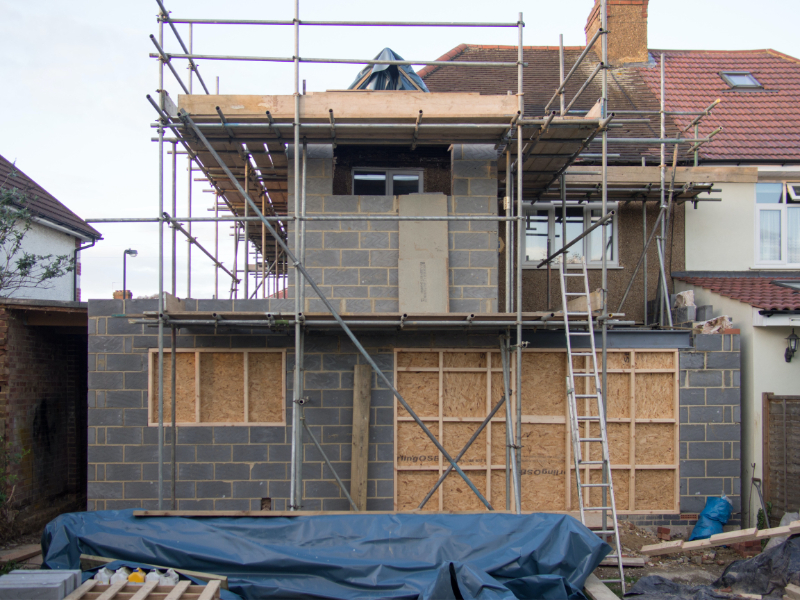 Week 2 – Foundations and Groundwork
The very first stage of the construction process will be the groundwork and foundations of your extension. The contractors and builders you have hired will excavate the area around the extension floor, placing reinforcement bars into it where needed.
At this stage, you should have a local Building Control surveyor check the foundations to see that they meet the necessary regulations. Once the foundations have been approved, you will need to install all of the pipework, wiring and drainage systems that are going to be required.
Your contractors will then cover the foundations in concrete and wait to have all of them approved by the relevant regulators.
Week 3-4 – Ground and Low-Level Work
After the foundations have been completed, your builders will dig trenches around the project site and install necessary drains. Your builders and bricklayers can then build the extension wall up to the level of the damp course. After this, the damp proofing, insulation and any lintels will be installed into the extension. The final part of this stage is to pour the concrete flooring.
Week 5-6 – External and Internal Walls
This is where your extension will begin to take shape. As the walls are built higher, insulation, lintels, windows, frames and locks will be installed.
Week 7 – Build the Roof Structure
After the walls and all their necessary elements have been installed, the roofers will take over and construct the roof frame. Onto this, your contractors will install any skylights or domes that you have in mind for your rear extension.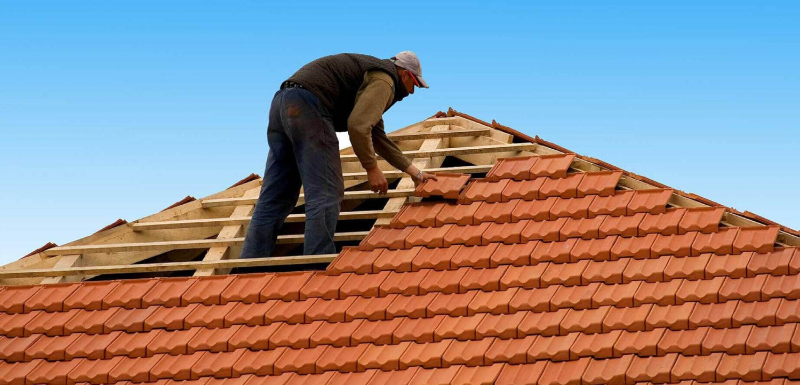 Week 8 – Lay the Roof Covering
Once the roof has been constructed, the roofing felt will be laid to protect it from the elements. Battens will be places, and roof vents installed where needed.
Finally, your roofer can lay the roofing tiles you have chosen. Any soffits, bargeboards or fascias can also be applied at this stage. Finally, your roof will be screed and left to set over a couple of days.
Week 9-10 – Guttering, Windows, Doors and Render
Once the structure has been constructed, it's time to add all those little elements that make it look like home. You will install the windows and doors into their frames and guttering along the edge of the roof at this stage. You will also install all electrical wiring and plumbing appliances.
Week 11-12 – Knock Through and Plastering
Once the extension is set up, you can knock through into your existing property to create the new space. Installing and having lintels and padstones inspected by Building Control can also be done at this stage of the development. After this, you can plaster the walls.
Week 13 – Final Work
The final stage requires two kinds of work - fundamental and cosmetic. The fundamental parts being electrical switches or light fittings and connecting your plumbing. The cosmetic work includes painting and decorating your plaster walls and installing the wood, tiles or carpet onto the floor.
Week 14 – Snagging and Garden Work
Finally, you can make any other minor adjustments you have noticed along the way. Additionally, your contractors should help keep the surrounding area of your garden nice and tidy once the work is finished.
What Causes Delays and Hold Ups?
There are several reasons why delays could occur during your construction project, including:

Tradespeople - given that many different contractors are needed to complete the work, and some cannot begin until others have finished, this could lead to hold-ups in the project.
Lack of planning - not having a proper plan or an architect to manage the project can lead to problems that slow you down later in construction.
Expect the unexpected - various uncontrollable things, from bad weather to supply problems, could delay your extension project.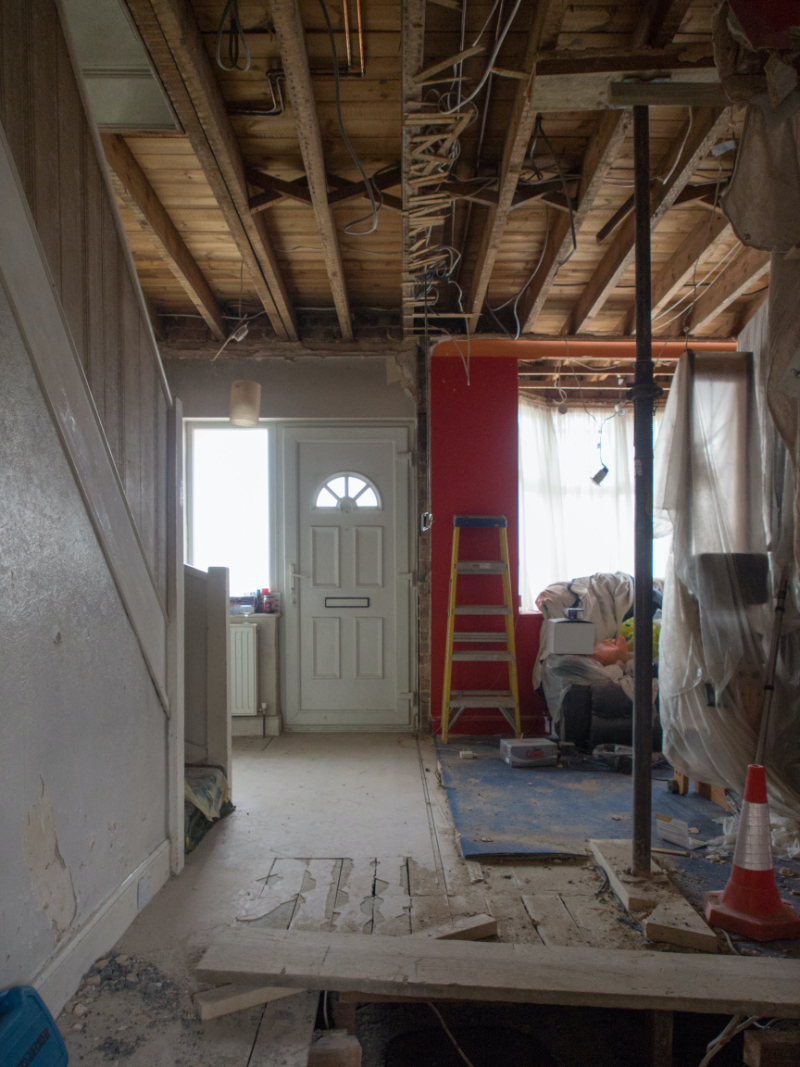 Do We Need To Move Out When Building An Extension?
Typically, you will be able to remain in your home while the extension work continues. If your extension is only occurring in one area, for example, the rear or side of your home, you can happily carry on as you were.
Of course, you should anticipate some limited movement, given the number of materials and contractors needed to carry out the project.
If your extension interrupts your daily life, such as a kitchen extension, you might ask your contractors to set up a temporary solution, such as a kitchenette.
Alternatively, you might consider renting somewhere else to stay if you think the project will interfere severely with your daily routines. If you are considering multiple extensions, doing these in stages will help to keep your home usable while the work goes on.
Are you looking to extend your house? Please contact Stafford Construction for everything you need. Use the buttons below to find our contact details or browse the home page